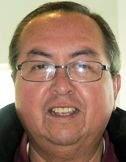 Carlos Rene Rodriguez
In November of 2018, Carlos Rene Rodriguez's name was added to the Diocese of San Bernardino's list of priests credibly accused of sexual misconduct, originally released in October of 2018. As a priest, Rodriguez served primarily in the Diocese of Los Angeles. Rodriguez was sent for psychiatric treatment in 1987 when it became known that he had molested a boy. The boy's parents reported the incident to the police. As Rodriguez was in treatment in Maryland at the time of the investigation, it did not move forward. The list released by the Diocese of San Bernardino refers to an incident of child sexual abuse occurring in 1993 which the diocese became aware of in 2018, twenty years after Rodriguez was laicised in 1998. After his laicization, Rodriguez began calling himself Carlos Ramirez and started leading church services at a non-sanctioned church in Los Angeles. In 2003, Rodriguez was charged with eight felony counts related to child sexual abuse occurring in Los Angeles between 1984 and 1986.
Carlos Rene Rodriguez has used the alias Carlos Ramirez.
Father Rodriguez's Assignments
| Placement | City/State | Date(s) |
| --- | --- | --- |
| St. Vincent Catholic Church | Los Angeles, California | 1987 |
| St. Mary's Seminary Evangelization Center and Retreat | Santa Barbara, California | 1989..1993 |