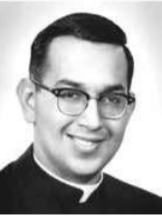 George Michael Miller
George Michael Miller is accused of abuse of numerous children in the 1970s and 1980s.  Miller's personnel file shows reports of abuse in the mid-1970s.  More reports were made in 1996, after which he was placed on sick leave.  He was removed from active ministry in 1997 and spent extensive time in treatment at St. Michael's Community in the years that followed.
In 2002, several more victims came forward and Miller was arrested.  The charges were dropped in 2003.  Miller was laicized in 2005.  He was arrested again in 2007 for molesting a boy in 1988-1991.  In 2008, he pled guilty to the charge and admitted to abuse of three more people.  He was sentenced to three years in jail.  He may now be deceased.
Father Miller's Assignments
| Placement | City/State | Date(s) |
| --- | --- | --- |
| Our Lady Of Perpetual Help Catholic Church | Santa Clarita, California | 1964..1967 |
| San Buenaventura Mission Catholic Church | Ventura, California | 1968..1971 |
| St. Philomena Catholic Church | Carson, California | 1972..1973 |
| Guardian Angel Catholic Church | Pacoima, California | 1974..1984 |
| Santa Clara Catholic Church | Oxnard, California | 1985..1996 |