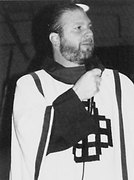 Gustave R. (Gus) Krumm
A priest of the Franciscan Order, Gustave ("Gus") Krumm has been accused of sexually abusing at least nine boys. A 1993 report by an independent review board determined that at least 34 St. Anthony's students were sexually abused by 11 Franciscans — including Krumm — over three decades.  In 1995, a settlement was reached with a young boy who was sexually abused by Krumm.    The diocese had known about the earlier accusations when it hired him in 1998.
In 2002, after a news outlet reported the 1995 settlement, Krumm acknowledged "past indiscretions" in the 1970s and 1980s, while he was a seminarian and after ordination. Many of Krumm's victims were students at St. Anthony Seminary High School in Santa Barbara, CA.  Because of the publicity caused by this news article, he was removed from his position as pastor of a Portland, OR parish in 2002.
Krumm was moved to a Franciscan parish in Sacramento, CA in May 2003, but was removed from there after six weeks when news media revealed his whereabouts. Two more men accused Krumm of molesting them at their Huntington Beach, CA parish when they were children in the early 1990s. Krumm was laicized in 2006.
Father Krumm's Assignments
| Placement | City/State | Date(s) |
| --- | --- | --- |
| St. Anthony's Seminary | Santa Barbara, California | 1980 |
| Santa Barbara Mission | Santa Barbara, California | 1980 |
| St. James the Apostle | Las Vegas, Nevada | 1982..1985 |
| St. Anthony's Seminary High School | Santa Barbara, California | 1985..1987 |
| Bishop Diego Garcia High School | Santa Barbara, California | 1987..1988 |
| Ss. Simon and Jude | Huntington Beach, California | 1988..1998 |
| Ascension | Portland, Oregon | 1998..2002 |
| St. Francis of Assisi | Sacramento, California | 2003 |