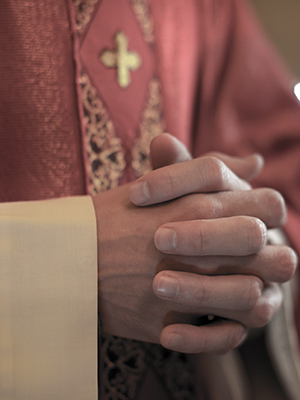 Joseph F. Alzugaray
Joseph F. Alzugaray was sued in 2004 for an alleged sexual abuse of more than one young girl while he was a priest at the Immaculate Conception parish in Monrovia during the late 1960s.  The allegations included fondling, kissing, oral sex, sodomy and penetration by foreign objects.  Despite reports of his abuse in the mid-nineties and again in 2004, he nonetheless ascended through the ranks of the church hierarchy.
Shortly after the lawsuit was filed, Alzugaray sued his accuser and others for defamation of character.  His defamation claims were rejected and his lawsuit was dismissed in April 2006.
In 2009, a diocese "review panel" conducted an internal investigation and determined that Alzugaray should be removed from ministry.  The then-Bishop Daniel Walsh rejected the recommendation, instead allowing Alzugaray to remain the head of the Napa Deanery and the pastor at St. Apollinaris parish where he had direct oversight of a parochial school.  Alzugaray retired from the priesthood in 2011 and died in 2014.
Father Alzugaray's Assignments
| Placement | City/State | Date(s) |
| --- | --- | --- |
| Immaculate Conception | Monrovia, CA | 1967..1972 |
| St. Finbar Church | Burbank, CA | 1972..1975 |
| Holy Trinity | San Pedro, CA | 1975 |
| Society for The Propagation of the Faith | | 1975 |
| St. Bartholomew. | | 1975 |
| Holy Name of Jesus | Los Angeles, CA | 1976 |
| Catholic Big Brothers | | 1976 |
| St. Mary Magdalen | Los Angeles, CA | 1977 |
| Holy Name of Jesus | Los Angeles, CA | 1977 |
| St. Patrick | Los Angeles, CA | 1979 |
| St. Brendan | Los Angeles, CA | 1982 |
| Chaplain to His Holiness | | 1983 |
| Society for the Propagation of the Faith | | 1984 |
| St. Kevin | Los Angeles, CA | 1985 |
| All Souls | Alhambra, CA | 1990 |
| St. Martin of Tours | Los Angeles, CA | 1992 |
| Diocese of Santa Rose (active leave from Archdiocese of Los Angeles) | Santa Rosa | 1995 |