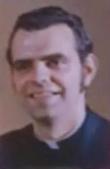 Lynn Richard Caffoe
Lynn Richard Caffoe allegedly sexually abused at least 15 young boys at various parishes.  Personnel files released from the Los Angeles Archdiocese reveal that faculty had been concerned during his seminary training at St. John's in Camarillo in the mid-1960s.  In 1975, the Archdiocese received notice that Caffoe sexually abused altar boys at his first parish in Garden Grove.  After he was transferred to Our Lady of Peace in North Hills from 1975 to 1982,  two more people came forward alleging abuse.  From 1982 to 1986, while serving at St. Bede the Venerable in La Canada, two priests discovered videotape of Caffoe filming several high school boys with their shirts off while encouraging them to become sexually aroused.  Caffoe was once again transferred.  From 1986 to 1991, there were several more complaints while he served at St. James in Redondo Beach.  It was not until 1991, when Caffoe's therapist filed a child abuse report, that his ministry was restricted.  He was treated at St. Luke's Institute in 1991-1992.
In 1994, a high school boy reported that he was sexually abused from approximately 1988 until 1993 by Caffoe. This abuse began at St. James School in Redondo Beach. In 1998, a woman reported that her brother was sexually abused by Caffoe as an altar boy at St. Callistus Church.  And in 2002,  an anonymous caller reported that he too was sexually abused by Caffoe while an altar boy at St. Callistus.
Caffoe was not laicized until 2006.  He died in 2009.
Father Caffoe's Assignments
| Placement | City/State | Date(s) |
| --- | --- | --- |
| St. John's Seminary | Camarillo, California | 1964..1971 |
| St. Callistus | Garden Grove, California | 1971..1975 |
| Our Lady of Peace | Sepulveda, California | 1975..1982 |
| St. Bede the Venerable | La Canada, California | 1982..1986 |
| St. James | Redondo Beach, California | 1986...1991 |